Enjoy Happy Hour at Kanon 4pm to 8pm !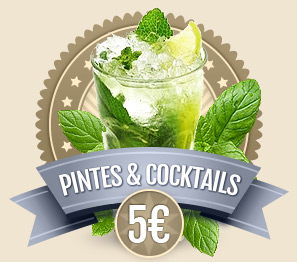 It's a fact: The Parisian Life is stressful and, after a hard day's work, there is nothing to perk than sipping a good cold beer or a delicious cocktail. The pub sports bar KANON is precisely the place where everyone wants to finish his day off. The bar offers KANON, between 4pm and 8pm, the Happy Hour that will enable all those, who worked hard all day long, to relax with their friends and at lower cost.
For only five euros, the Happy Hour will enable everyone to enjoy a pint or a cocktail while decompressing from a busy day. After suffering for hours and the stress of the office as well as public transports, the first sips will be enough to forget all the hassles. With its extremely rich offer of beers and cocktails at ridiculous prices, the KANON will please far more than one customer when Happy Hourtakes place.
A veritable institution that all partygoers would not miss under any circumstances, the Happy Hour KANON is to be discovered quickly. In an atmosphere of late afternoon relaxing and laughter, going out of office will never have been so nice. In times of crisis, when every euro counts, being able to enjoy tasty beer or cocktail finely tuned at low cost is a pleasure that we can not, logically, divest. Appointments at KANON between 4pm and 8pm.